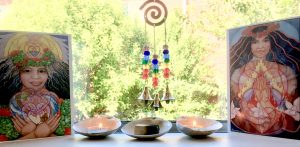 works on the skin instead of the muscles,
 uses no oil,
the recipient may be fully clothed.
can be done in any position.
The Hawaiian Kupua (healers) prefer this system because of its simplicity and its ease of application. Serge Kahili King – the author of "Urban Shaman" teaches this particular form. He has learned it from the Kahili family in Kauai Island and developed it further using his own experience.
"Kahi" means "oneness, fire, and light pressure". Kahi Loa (Great Kahi) is a form of healing that involves the mind, the body, and the energy of both the practitioner and the recipient. Like all Hawaiian healing systems, its purpose is to promote the free and abundant flow of life energy through the body.
The Kahi Loa Process
Kahi Loa consists of seven segments. Each of them refers to one
of the seven elements of the Hawaiian shamanism: Ahi – fire, Wai – water, Makani – wind, Pohaku – stone, La'au – plants, Holoholona – animals, Kanaka – people.
Formally, Kupua – the shaman applies these in sequence; First on the back and then on the front of the body, at least three times each. Informally, they may be used as desired, independently, or grouped.
An important part of this practice is the feedback from the recipient before, during, and after each segment. The shaman modifies his practice in line with this feedback. The recipient may also maintain a healing affirmation or symbol during the process.