ReConnect to Flow – Individual Lomi Lomi Nui & Huna Training in Waimairi Beach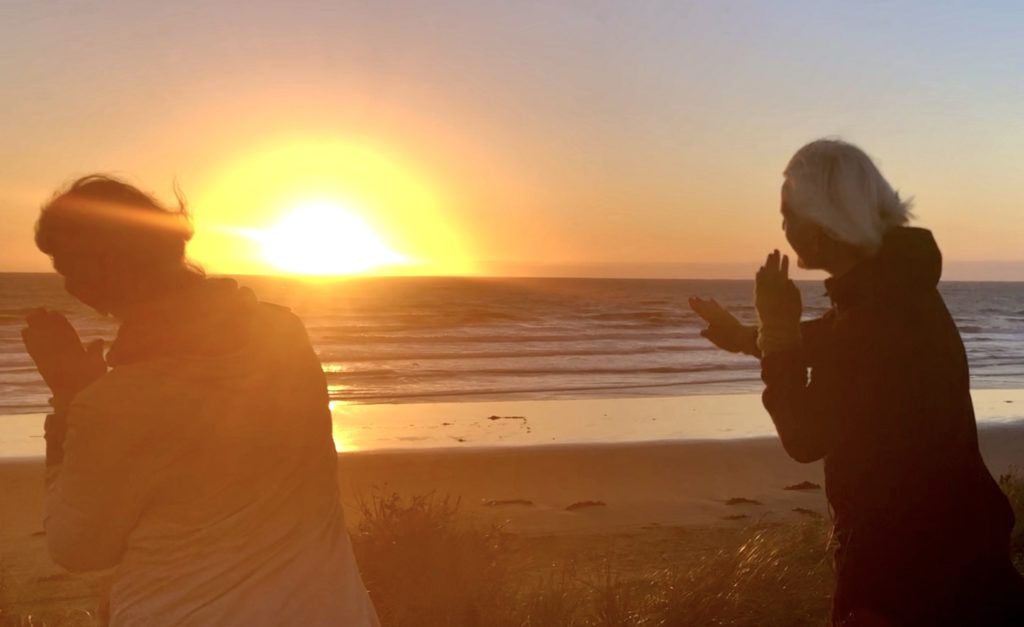 This is an invitation to spend a few days within yourself. To learn a set of skills, which may be more useful and practical in your everyday reality than you realise. To challenge your mind a bit learning basic principles of Huna – Hawaiian philosophy of happy fulfilled life. Plus a chance to reconnect to your own body, heart, and mind, cleanse and release unconscious blocks, thus restoring the free flow of life energy. This training will leave you more connected, rejuvenated, balanced, and full of energy.

Lomi Lomi Nui is not just an ordinary massage modality. At least not in the simple meaning of the word. It is a body-based practice of conscious presence with yourself and for someone. It teaches you to offer unconditional love and to receive it back. It helps you to open to non-sexual, but intimate physical contact with other people. And above all – it brings back the lost art of human touch, which is not automatic, disembodied, but meaningful and connected with the heart. It teaches you to restore the connection with self, others, and the energy that moves us all. It is a healing modality. Both for the person who receives the session and the practitioner.
Ancient Hawaiian culture was very much embodied, based on connection and understanding of how energy moves in the Universe. Our culture, on the other hand, is intellect-based. We are often disconnected from our bodies, from our feelings, and from physical contact, thus alienating us from other people. Lack of connection is one of the underlying reasons for most modern-day illnesses, depression included. And is responsible for our lack of satisfaction in life. We live out of balance. Our four bodies: physical, emotional, mental, and spiritual are not in contact. We often feel we lack something in our lives, but we do not know what exactly. Sometimes the answer is very simple – we need to reconnect. To our own bodies, feelings, heart, soul. Only then we can start to live a life that has the real sense to us. Myself, I was totally disconnected. And my way back into myself is through conscious movement and through conscious touch, bodywork. So apart from learning techniques and strokes, this is what we will practice during this workshop.

Feel invited to join. This is a course both for absolute beginners and for the people who continue their way towards certification. Within Aloha International from Hawaii – which this training is part of there are 5 levels of Training, each 5 day-long.
But In order to take part in this training, you do not need to be, or even want to be a professional massage therapist. It is really good to share within a family, with a partner, with friends. This is how Hawaiians used it. The whole family was spending some time every day giving one another loving conscious touch.
To let go of stress, relax, be together, share love, heal from any sickness. Their definition of illness was simple: it is a block in the free flow of energy in the body. So in order to allow the body to heal it was enough to release the block and bring back the flow.

Lomi Lomi Nui is all about energy – so in its core, it is an energetical bodywork. Everything is a form of energy. Therefore this training touches all levels – body, emotions, mind, soul, and spirit. As all of these meet in this amazing thing called the body, we may be granted access to stored memories, emotions, visions, and gently release them, letting go of all that no longer serves us. This massage also works with intention – consciously inviting your mind to make the changes you want in your life. It is truly a holistic approach, a powerful and pleasurable gateway to self-love and co-creation with Universe.

When you really tune in and give this message from your heart space, it will also strengthen you. You do not need to be physically strong or fit to be able to learn it – as is the case with some other modalities of bodywork. Once you master the movement – the technique will help you go on. It is done in a meditative state of mind as a form of dance, therefore it is nourishing and rejuvenating also for the giver.

This training intentionally was design for 1 max 2 participants. It gives you comfort and an individual approach. And for me, as the teacher allows to accompany you fully in your process. This is the way I like working most. To ensure the best environment and quality of learning.
If you are interested in individual Lomi Lomi Nui massage training and would like to know more details, please contact me.
ReConnect to Flow – Group Lomi Lomi Nui & Huna Training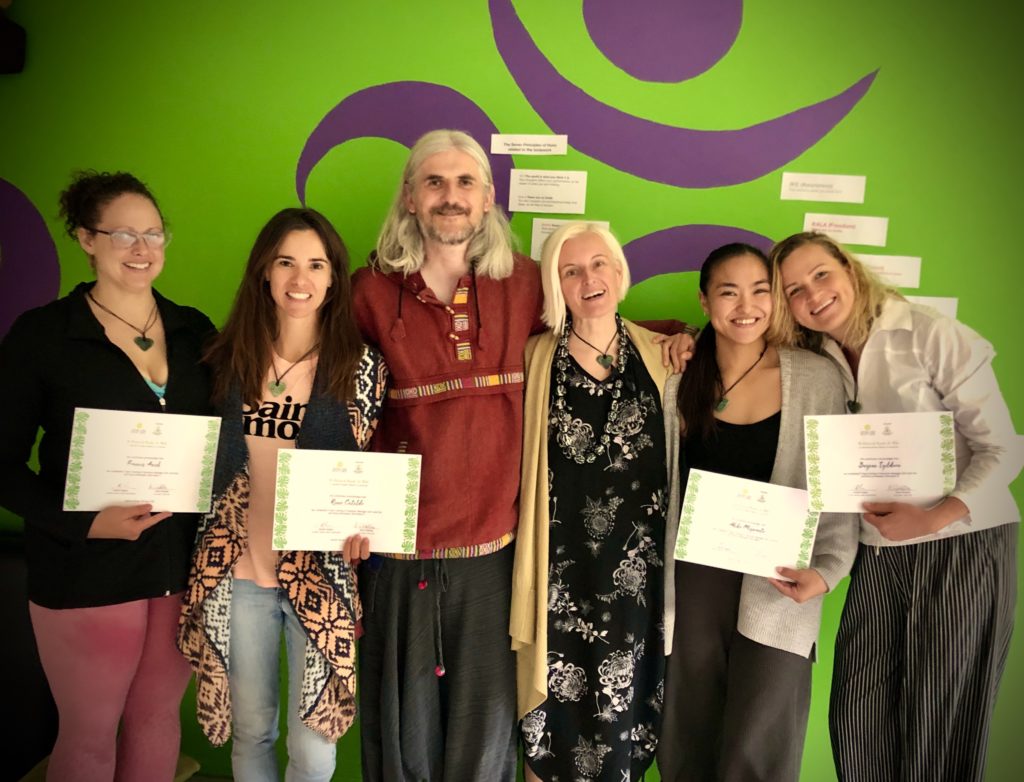 Together with my partner Rafal, we've just completed our 5-day Lomi Lomi Nui & Huna group training in Hanmer Springs. From now on we start preparing for the next one.
More details soon.
***
Our students impressions after the Lomi Lomi Nui group training :
'Feeling blessed after spending 5 days in Hanmer Springs training in the art of Hawaiian Lomi Lomi Nui Massage. Thank you so much… Iza & Rafal – my amazing teachers, I am so grateful for you both. Mary Jo & Steve Vibrant Living Retreat – for providing such a welcoming environment, beautiful accommodation & nourishing meals!
And my new Lomi Lomi family – Frankie, Zuzu, Kiko, Elaine.. I love you all! I come away with so much more than I expected and will treasure this experience forever. Mahalo!'
Renee Cataldo
*
'So…this happened. I am now Lomi Lomi Nui massage therapist What a journey!
The training was just amazing. There were challenging situations but I loved every second of it! Life is full of surprising events, it's all up to you how you receive or what you create from it but I now call it an adventure and will enjoy all of it.
Thank you so so much for nourishing us my dear teachers and @vibrant_living_retreat Mahalo! Mahalo! Mahalo!'

Akiko Miyamoto

*
'I participated in an intensive LOMI & HUNA workshop facilitated by Izabella. She is an amazing conductor. She guides us through Lomi Lomi (Hawaiian massage) rules and gave us practical skills and knowledge. It was an unforgettable time deeply focus on woman's energy. We had space to concentrate on a massage practice and also on our own needs.
She was very patient, gave us a lot of attention, and showed us how to carry our bodies gently and with love. All girls thoroughly enjoy that event. Definitely recommend Izabella as a teacher.'
Malgorzata Kostro-Olechowska
If you are interested in Lomi Lomi Nui group training and would like to know more details, please contact me.
Kino Mana Training System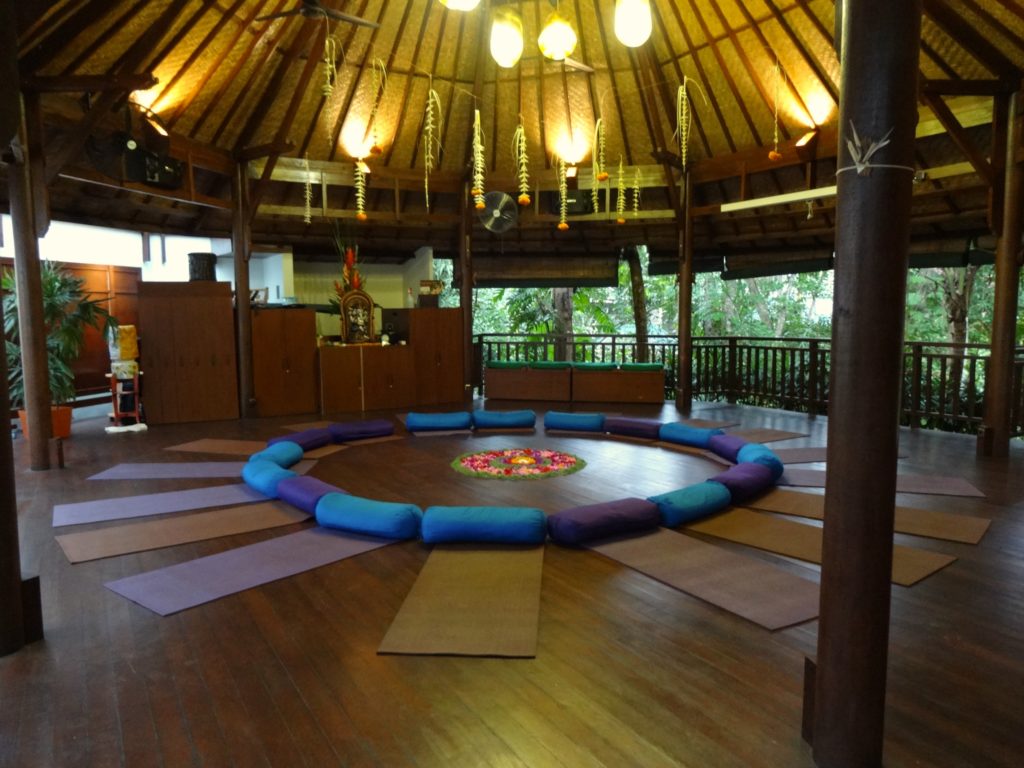 The healers of ancient Hawaii knew special ways to release the powers of the body so that physical, emotional, and mental healing would take place more quickly and completely. Now you can learn the healing skills from three Hawaiian traditions brought together in a single training called Kino Mana. This training benefits beginners and expert practitioners alike.
Lomi Lomi Nui, also known as the "temple-style" of Lomi, is a kind of bodywork that incorporates hula dance movements to produce a profound healing effect for the recipient. At the same time, it energizes the practitioner. This massage was performed by Kahuna Lapa'au (master Lomi practitioners) in the Heiau (temples). Deep physical and spiritual healing was its purpose.
Health (ola) existed when the body's cells vibrated at a fast pace or in other words, the body's energy was free-flowing. Illness (ma'i) occurred when that flow was blocked or restricted for an extended period. In this style of Lomi Lomi (massage), the practitioner is the dancer, the recipient is the choreographer, and the dance is always unique. The foundation strokes and rotations of joints are taught as a framework. Then the attentiveness, love, and respect are emphasized so that the practitioner develops the confidence and trust information coming from the recipient; Also emphasized are listening to one's own body as a map for understanding how bodies release blocks. Hence, much of our training time includes exercises that encourage our own bodies' energy to flow freely. So get ready to help yourself as we increase our skills to help others!
Kahi Loa
Virtually unknown outside of Hawaii, this healing system combines a light touch with mental focus and feedback for amazingly fast and deep results. Kahi Loa came from the healing traditions of the Kahili family that taught Serge King. Serge taught it to us as a compliment to the Lomi Lomi Nui because of its flexibility and adaptability. The elements of Nature work with the practitioner and receiver to remind us of our interconnectedness and mutual love. Kahi Loa doesn't use oil so it can be done in more situations, even without a massage table. It can be done as a complete session or any portion, and still, be very effective!
Huna
Huna is the original Hawaiian arts and sciences of spiritual development. Sometimes these teachings are called "Ho'omana". "Ho'o" means "to make" and "Mana" means life force, equivalent to "Ki" (as in Aikido), "Chi" (as in Tai Chi), or "Kundalini/Shakti" in the Sanskrit language, so "Ho'omana" means "empowerment" or "to empower. It is a very practical toolset for empowering and achieving our full potential.
Kino Mana I – a five-day course that includes the above three Hawaiian traditions.
Kino Mana II – a five-day course that involves moving deeper into the Lomi Lomi Nui instruction and practice.
Kino Mana Intensive – a ten-day intensive course, combining of Kino Mana I and II.
---