There are special people who come into our lives. They make their impression on us, not by what they do, but by who they are.
Tony is one of them. I will miss his physical presence, but his spirit
will always be with me.
I will always remember his wonderful wisdom, the cheeky joker, the one who pulled no punches, but told it as he saw it, but most of all,
his great Aroha that bound many people together.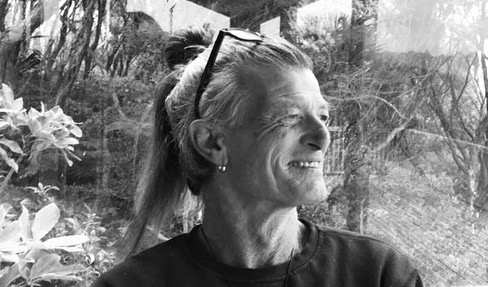 Tony Crewther 7 February 1960 – 27 August 2022
Matakite, Seer, and healer who was descended from Kaihautu (Captain of the Taki Timu Waka) Tamatea Arikinui.
His Tipuna had been guiding and talking to him since he was a child. They showed him where in people's bodies they hold disease and give a representation of hurts inflicted by others as objects for removal. Tony used Karakia, energy, wairua, and physical point work to facilitate healing.
He helped many people to find the clearest way forward for themselves and remove energetic blocks and old patterns. He just had seen the aspects of you that were hidden from the world and helped you to create a better relationship with yourself.
He used to extend an unconditional vibration of Aroha that allows his client's heart to speak and be heard, by-passing the mind.
***
17 of June 2021, a sunny and windy day, while in Karekare, the North Island, an unknown man came to me and said: 'I have to tell you something. I have two messages for you.' Before I even asked him from whom these messages come, he said to me: 'Nau mai ki te wā kāinga / Wellcome home! Do you know that your tipuna (ancestors) walked this whenua (land)? I mean the ancestors from thousands of years ago?
And now you are returning home..' It was the first message, and from that moment I started to listen to him more carefully.
I owe you a small explanation at this point. When I come with my partner Rafal to Aotearoa  New Zealand (there years earlier) I felt in need to be welcomed and accepted by the people and the land. I request even once, one of my Maori friends to advise me on that matter. We talked about a kind of small ceremony and how to perform it, but this never happened until that day 17 of June'21. From that moment I finally felt like I am really at home, here in Aotearoa, so far away from the place I was born in this life, but in the place where my heart (ngākau) and my soul (wairua) belong. 
While the first message was so long anticipated and welcomed, the second one was unclear and mysterious. It was as follows:
'Show me your hands. You think you do, but you really don't know their real power. You have to dive deeper into your hands-on practice. It is just the beginning. You will recall more and more of your tipuna knowledge and the wisdom of this whenua that was carved in your ngākau. But you have to be patient, and when you recall and restore all this wisdom you are not allowed to keep it for yourself it belongs to all tangata and will be so needed in the times to come.' 
We had not met before. He didn't know who I was or what I did for a living, I had no idea who he was. A few days later I learned that he is a well-known Matakite and healer in the area with over 30 years of experience.
Sometime after that unexpected meeting, I started to 'hear' or 'read' messages from bones, about life experiences, emotions, or any other needs of the people, who I am massaging or just touching. Sometimes these messages are very precise, I just know what happened, what is ready to heal, how to release the tension and restore the free flow of life energy in the body, or what is ready to be invited to the body and life experience of that person. In the beginning, I struggled with it and kept these messages only for myself… still wasn't sure if it was not a kind of delusion or autosuggestions I was telling myself that wasn't true. 
One day I had the courage and after the session, I told my client what her bones told me.
It was a woman who came to me for the first time and I knew nothing about her. The bones told me some story she carried for a long time. They said it is time to let go of it, how to do it, and that now is the best time to do it. 
I told her all of it. I told her about all of this, stipulating that it could only be my imagination, and asked her to take only what resonates with her and what she finds useful, and forget about all the rest. Tears appeared in her eyes immediately, she thanked me and said that this story really happened and now she finally feels ready to let go of all emotions involved and go forward.
Situations like this appeared more and more frequently. Different stories, different messages, and insights seemed to be important and meaningful to my clients as I shared with them what I "heard" from their bones. I still feel some reserve and am very cautious with this sharing, yet I feel it and "hear" it more and more strongly and precisely.
***
27 August'22 on the day when You surrendered and let your wairua/soul to fly I had just landed, returning from my European trip. I felt deeply Your spirit, traveling to the light of a new day. Death is the dress of life, and on that day You simply shed yourself letting go of the burden that was your body, but your spirit is still present here and will always be.  
Nga mihi / Thank You Tony and now I am ready for what is to come.